Twitter October Events Calendar has Plenty of Marketing Tricks and Treats
With the end of 2017 fast approaching, the list of events that brands can take part in for Twitter marketing just keep on increasing. Luckily, Twitter is here to help marketers keep track of them all with the Twitter October events calendar.  

Twitter October Events Calendar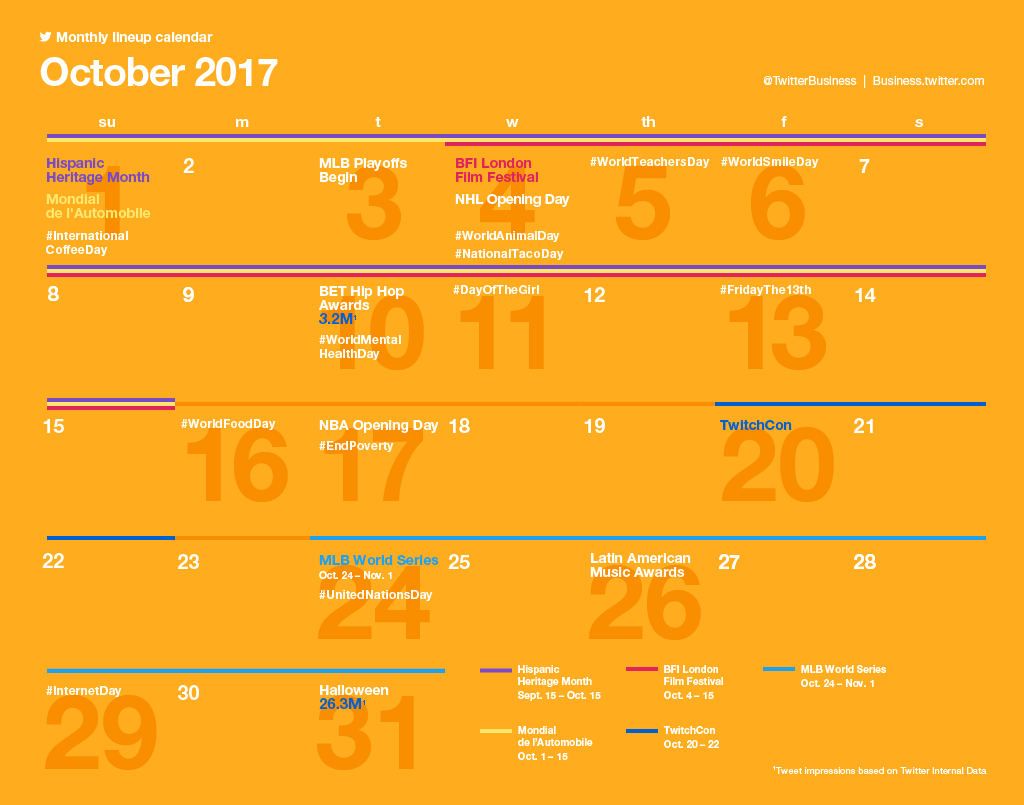 Twitter's October events calendar continues the train of events from September with the second half of the Hispanic Heritage Month happening from the 1st to the 15th. Meanwhile, sports fans are in for a triple treat of major sporting events:
All these three events are also well-known as big marketing opportunities for brands, especially on Twitter where trends emerge and people want to talk about their favorite sports team's success and promise for the new season or playoffs.
Aside from sports, there are also plenty of events that cater to different interests.
The BFI London Film Awards:

Oct. 4-16

The BET Hip-Hop Awards:

Oct. 10

TwitchCon 2017:

Oct. 20-22

The Latin American Music Awards:

Oct. 26
These events also generate a significant amount of interest on Twitter, with the BET Hip-Hop awards expecting to result in 3.2 million tweets according to figures from Twitter.
The biggest event this October is Halloween on the 31st. The traditional celebration amassed more than 26.3 million tweets in 2016 and is pretty much guaranteed to pull off the same this year.
Some of the most popular hashtags from last year that you can get ready for this year include:
#TrickorTreat

#DIYCostume

#HalloweenParty
Luckily, you still have a month to plan a hashtag marketing campaign for Halloween that will scare off your competitors.
Tricking out your October marketing campaign
Aside from official events, Twitter also loves to pepper its monthly event calendars with themed days. Some of these themed days for October are:
#InternationalCoffeeDay:

Oct. 1

#NationalTacoDay:

Oct. 4

#WorldTeachersDay:

Oct. 5

#FridayThe13th:

Oct. 13

#EndPoverty:

Oct. 17

#UnitedNationsDay:

Oct. 24
These themed days and their associated hashtags offer you more opportunities to engage your audience with relevant content. But you need to carefully choose which of these to join to better fit in. Some brands are a better fit for these 'holidays' than others:
Luckily, the platform also lends you a hand here via the Events Targeting option that it provides on Twitter Ads. With this, you quickly see all the events, as well as their location, duration, and projected audience size. Once you have your themed Twitter campaign ready, use Devumi's Twitter Retweets Service to quickly give it a boost and be at the top of the trending conversation when the day comes.
The Twitter October events calendar: Ghoulish fun
As you can see, October is packed with a lot of events that are ripe for becoming part of your Twitter content marketing strategy. This means that it is time again to print your copy of the Twitter events calendar for this month and plan out your campaigns. We'll be waiting to see what treats you will have in store.